In January and February 2019 children from Locking Primary School visited the church as part of the Local Heritage Project.
They looked at the history of the church, comparing old photos with 'then and now', the font, the baptism and marriage register books, a model of the bells, the stained glass windows and what all the different parts of the church are used for. They also completed a questionnaire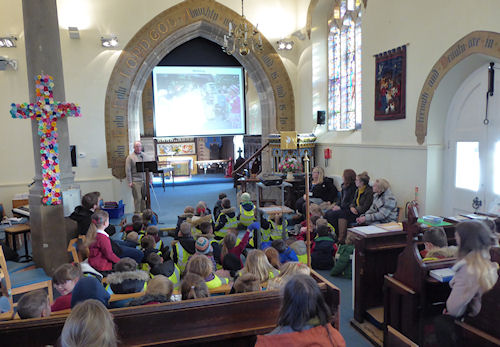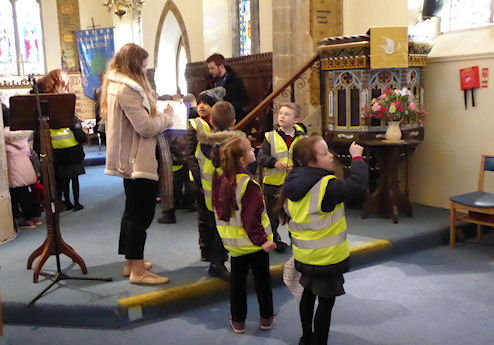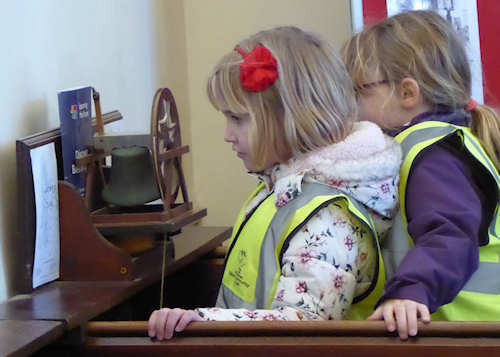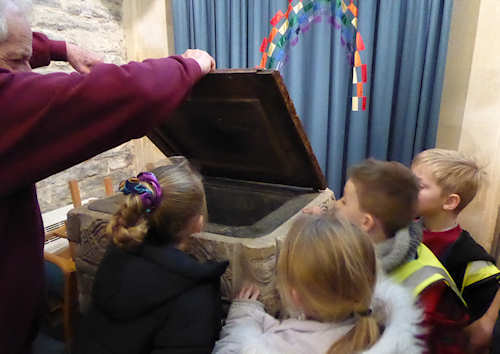 Questionnaire completed by Years 1 & 2
1. Why do we have a Church in Locking village and what is it called?
2. What are the bells for? (there is a model at the back of the Church which shows how they work. Pull the string!)
3. Where would you find the church bells?
4. How many bells are there? (Count the ropes in the Tower)
5. The large carved stone in the tower is called a font. What is it used for? Can you draw it?
6. What are the figures carved on it? Can you draw one?
7. What do you think is under the big wooden lid?
8. Turn around and look by the wall. Can you see a brightly coloured pulpit? Write the words on the front of it. Can you draw a picture of it?
9. What is the pulpit used for?
10. Can you find the organ. What is it used for?
11. Can you see the stained glass windows? How many are there?
12. Who is the lady in the window at the back of the Church on the other side to the door. She is playing something
13. At the end of the Church is a large table behind a rail. It is called the altar. There are two windows above this. Who is the person in each?
14. In one of them he is carrying an animal. What is it?
15. Inside the Church, at the altar end, are some panels carved by people years ago. See if you can find some of their names hidden in the patterns.
16. On the stone pillar in front of the organ is a list of names. Who were the people on the list?
17. On the wall by the door you will see some writing in a frame. It tells us about a man called Sapper John Glimstead. What happened to him?
18. Can to see the fancy lights called chandeliers? How many candle holders are there in the one nearest to the organ?
19. In the old days the school used to be by the Church Centre. It is still called the School House. Can you find a picture of the schoolchildren outside the Church?
20. As you enter the Graveyard there is a covered gateway called the Lychgate. What used to happen there?
21. What is the graveyard for?
22. What are all the big stones outside the church with writing on them?